In Which I am Long-Winded
This is one of my rambling posts… you've been warned. Before I start,
head over here
and enter to win Beth Moore's new book, So Long Insecurity. We all know how
I feel about Beth Moore
...
I'd like to start with a collage if you don't mind; just a random sampling of our lazy Tuesday morning yesterday. We hung out in pajamas until about 11:00am, at which time I realized that Devyn needed to get ready for her first day back at school since she got sick over a week ago. She was more than a little excited to be back.
I'm still working on
the pride issue
, and I've discovered that God's hitting me from all angles on this one. Pride in myself, in my children, in preconceptions I have of other people, etc. Ugh! Its such an ugly part of being human, and one I would love to ignore. But I hate who I am, what my heart looks like if I were to leave that area untended. I want so much for this tendency of mine to be gone. I would love to start each and every day thinking less of me, more of others, more of Him. Thank goodness, I am a work in progress.
Story of the Day, depressing or funny, depending on how you look at it. It was one of those days, one where the kids are whining, crying, fussing, and fighting from the moment they wake up. I believe I poured Hudson's cereal three different times and still didn't get it right. (I am not a fan of age three, I'll take two over three any day!) So when the fighting started after Devyn got home from school, I snapped. I dragged both of them by the arm, sat them in opposite ends of the hallway, told them to sit on their hands, and that they could not say a word until I told them they could. They must've heard the underlying hysteria in my voice because not a peep was heard for over ten minutes! Praise be to the Lord, I think that's most quiet I've gotten in over two days. Devyn has stated that she is not a fan of that punishment.
Another collage. I'm not sure if I've mentioned this or not, but Jon is finishing our basement a little bit at a time. It's slow-going but we hope to have half of it finished by the end of the year, the side that includes the laundry room, my computer nook, an extra bathroom, and guest bedroom. I continue to be amazed at Jon's ability to envision what he wants and then have the skills to carry it through. Love him!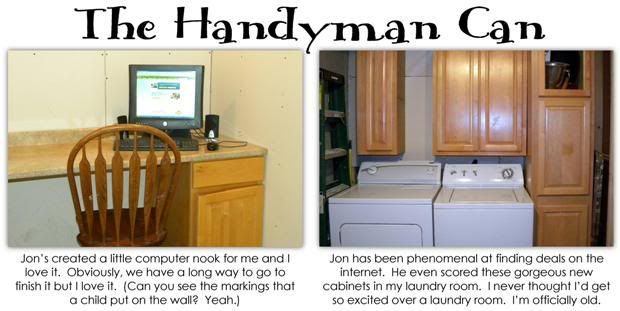 I continue to be humbled and awed at God's mercy; even when we are so disobedient to Him, I am amazed at how He blesses us. I can't go into too many details right now, but I promise to share more when I can. (No, I'm not pregnant. And yes, I hate it when people do that too.) At the beginning of this year, I launched a prayer campaign for one of my heart's desires, even going as far as to include a timeline. Imagine my awe when I started seeing how God was moving circumstances (some good, some not so good) to allow me this gift. It seems as though my prayers regarding the timeline were wasted. It appears everything may be coming to fruition much sooner than I'd wanted, which is both good and scary.
And last, but certainly not least, please say a prayer for
Layla Grace's
family during these coming days and weeks. The
beautiful two-year-old lost her battle to cancer
yesterday morning. I can't even begin to fathom the heartache her family is going through.