HYH Challenge - Wrap-Up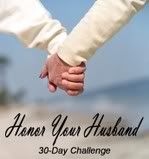 It was happening… again! I could feel myself growing tense, I could feel the self-righteousness rising up inside. I looked at Jon, watched as he carried on the conversation, oblivious that he'd done the very thing I'd been nagging him to work on. "Doesn't he get it?" I thought. "When is he going to learn?" I had stopped paying attention to what he was saying; I was indignant.

"My Child, do you trust me?"

Wait a minute, God, did you hear him just now? Why are you getting on my case?!

"Jenn… do YOU trust me?"

I heaved a huge sigh and answered with a small yes.

"Then leave Jon to me; let ME work on his heart, in his life. Let the changes come from me, not from your nagging. In my own time, sweet daughter; remember it's my time, not yours."

I settled back against the seat and willed the anxiety to leave my body. I turned to Jon with new eyes; I smiled and listened intently to the rest of his story. God was in control, I could rest easily in that knowledge.


*************************
Wow, thirty days later and I am extremely thankful that
Christine
held this challenge. It really forced me to face some attitude problems, rekindle some old habits, start new routines, and see my husband in a whole new light. I've realized that it's not so much about the goals for me, it's about the attitude. I could have all the goals in the world; I could meet each and every goal, but its all for naught if my attitude is in the wrong place. If I offer Jon time to do something he enjoys, but have a horrible attitude upon his return, he's not going to feel the appreciation I was trying to convey.
I especially enjoyed
Sarah's
summary when she said that
she had a hard not expecting the same guilt-free time in return
. I could easily relate to that. It seems that the worldly view of marriage is very much this for that, 50-50, equal time, etc. However, that is not the design God has for marriage. I am called to love Jon unconditionally, I am to lay my life down for him, and I am called to serve him. This challenge was about loving Jon as God loves him. I never expected to learn so much about myself through this challenge. And now that I know the areas I have to work on, I can leave Jon to God. After all, the ONLY thing I can change is how I respond to my husband. I will never perfect this, and I will constantly be a work-in-progress.