HYH Challenge - Week 4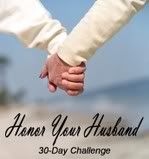 As I sit here at the computer typing this, Hudson is asleep on our bed and I've just finished reading Devyn her bedtime story and have tucked her in. Jon is upstairs watching a shoot-em-up movie with Alli's boyfriend, Drew, and loving every moment of it.

Earlier this evening, Jon came to me and asked me if it would be all right if he watched the afore-mentioned movie and I was feeling very resentful that he would even ask. After all, we had two kids that needed to be put to bed and I was hoping to get some help with that. I was hoping that my silent demeanor and sullen attitude would get my point across but then I had to double-check myself. I shook off the attitude, flashed him a smile, and told him to enjoy himself. He hesitated, afraid to believe that it was really okay. I assured him it was fine and he bounded up the stairs with a happy look on his face.

This was a very stressful, overwhelming week for me but I can honestly say that I did much better this week than last week. The phrase "be slow to anger, slow to speak, and quick to listen" kept running through my mind all week and I can't tell you how many arguments were averted. Instead I was able to stop and actually listen to what Jon was saying, without it being discolored by anger or hurt. And things are changing on his end too. Jon has always been an affectionate man, but throughout the week I've been pulled into long hugs, passionate kisses, and surprised by loving teasing. It almost feels like we're dating again! When I asked him about it, he shrugged and said, "Hey, if you can change, I can too." So far, I'm enjoying these changes!

My goals are not changing, I'm just going to keep on keeping on. I'm excited to see how this week turns out.