HYH Challenge - Week 3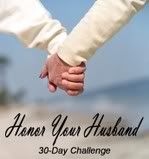 Ok, so I really didn't want to share my week with the world wide web. In fact, I actually contemplated not participating this week; I figured I had a good excuse. But then I recognized it for what it was… an excuse. And then I realized that I HAD to share about my week, because that is what accountability is all about, right? So here goes nothing…
Nagging – Well, that went right out the window, from about Tuesday on. Jon put in some really long hours last week (he had put in 45 hours by Wednesday) and often wasn't coming home until 8:00 or 9:00 at night. Yet that didn't stop me; I can't tell you how many times I reminded Jon to do this or that. Oh, I am SO embarrassed.


Guilt-Free Time-Off – Jon left bright and early (around 4:30am) for his fishing trip with his dad and brother. They headed to a lake about three hours away, so he didn't arrive home until after 8:00 that night. This is where it gets really ugly.

There was nothing guilt-free about my attitude upon his return. Where was my thanks? Where was the appreciation? Where was MY kudos? With each ugly thought that entered my mind, I found myself getting growing more and more upset. Even though I realized what I was doing, I couldn't help myself. I hated that my thoughts were SO centered on me and my entitlement in this whole deal. Even when I realized that this goal wasn't about recognizing my efforts, but celebrating HIM as a husband and father, I couldn't stop. I found myself reacting coldly to his stories about the day and I tried picking fights with him the rest of the night. Thank goodness he didn't take the bait; I have to say that I sorely missed the boat on that one.

If only I could have stopped and noticed that with each story, the smile on his face, the affectionate touches he gave to me and the children, and his happy demeanor WERE his thanks for the day off. And on an even brighter note, check out the fish he caught!


Um… no comment.
Was I able to greet him at the door? Nope. How did my lunch-making go? Yeah, do two days out of the week count? As you can see, it was NOT a successful week and I'm ashamed to admit that my attitude played a huge part in it. But the good news is that God's grace and mercies are new every day and now I get to start with a fresh slate… again! So here goes nothing
Nagging… back on the list.

Greeting him at the door, and lunch making… back on the list.

Bedroom… back on the list.


I've been covering him in prayer every morning, and I'm going to continue doing that.


And last, but not least. I have to work on my attitude. This marriage is not about changing him or wanting him to work on something; it's about working on me, putting my best attitude forward, and doing things out of love and respect for him. I really need to remember that…