Honor Your Husband Challenge
This challenge will be a little sticky and awkward for me to participate in because I have so many real-life people who read this blog, including the husband that I want to honor. So family and friends, if you find this challenge to be too personal or makes you uncomfortable, you may want to stop reading whenever you see the Honor Your Husband button. I'll leave the decision up to you.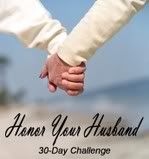 I am so excited for this challenge that Christine from Fruit In Season is hosting. Honor Your Husband – the instruction sounds so simple, doesn't it?! Yet, I find that it's hard to put Jon before our children because, after all, he is an adult and can care for himself, as opposed to my children who rely on me for their every need to be met. Do you see how I justify myself? All too often, I forget that Jon DOES have needs that only I, as his wife, can meet. I have been called to honor and love him; and I want Jon to know how important he is to me. I also feel it's important to demonstrate it for my children. They will see how I treat my husband and will carry those actions and ideas into their own marriages some day; what will they remember? That I obeyed God and treated him with love, respect, and honor? Or will they remember the times I was short, inpatient, and angry?

This challenge is coming at just the right time in my life. God is working in my life right now; I can feel it. I am already embarking on a personal challenge right now and this challenge will play alongside it nicely. We are facing a number of changes in the upcoming months and now is a wonderful time to start new habits and rekindle some old habits. Besides that, we are finally in a nice groove after adding another baby to the family, so I can now devote myself and my time to the priorities that God has laid before me.
My goals for this week include:
The first is similar to Christine's; making a conscious effort to greet Jon every afternoon. It has become too routine to sit on the couch and let Devyn greet her daddy first. Or finish whatever it is I'm doing before rising to greet Jon. Or allowing Jon to make the first step. He needs to know how much I missed his presence throughout the day and how glad I am that he's home.

The second goal for this week is rekindling a habit that I started during our first year of marriage, but have not done since. Jon has even made numerous comments about this and has expressed his wish that I continue doing it. During our first year of marriage I made his lunch every night before I went to bed, and with it I included little notes (usually written with a sharpie pen on the Ziploc bag) telling him how much he means to me; thanking him for doing something special for me; or just saying I love you.

The third goal for this week is incredibly personal and I won't be revealing very many details about it… for obvious reasons. Suffice it to say that there are needs in the bedroom too, and I will be working on those as well.
There you have it; my goals for this week. I wish everyone the best of luck! I would also like to caution others that Satan is NOT going to like that we are working on our marriages; he hates that we're going to strengthen the very bonds that he tries to destroy. He will place obstacles in our path; be it in the form of needy children, a shorter temper, no energy, a busy schedule, or other little things. While praying that God will work in our marriages, I think we should also be praying for His protection too.

If you would like to join us on this 30-day challenge, pop on over to Christine's site and sign-up. There is strength in numbers, my friends, and as Christine has pointed out, accountability is key!